Since moving to Houston 8 (ahhh- how has it been that long) months ago, I have consistently been impressed with how much this city has to offer. I won't lie, I thought that moving from Southern California to Houston was going to be a little bit of a let down in terms of stuff to do. While yes, we don't have the mountains, beaches, and hiking here- we do have SO many lovely other things! I think here in Houston you have to both know where to look and have to be willing to look!
In that vein, here are my recommendations for a one day adventure in Houston, TX during rodeo season.
Wake up and go for a run around Buffalo Bayou or Memorial Park. You'll thank me for this because A) you need to do this early before the heat gets too, too bad and B) you'll be eating a LOT today. I firmly believe time on your feet and eating are THE BEST ways to get to know cities, so lace up your sneaks and get going.
Shower up, get some clothes on, and get ready to check out some art and food at the same time. Grab an early brunch at Bistro Menil and then explore the Menil Collection. Brunch isn't exactly cheap, but the museum is absolutely free so it all evens out.The Menil Collection is one of the largest private art collections in the United States and has a unique campus feeling- almost like a neighborhood. Wander through the multiple exhibit halls/houses and make sure you check out the Rothko Chapel.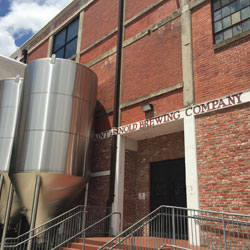 Now that you've gotten some culture, it is time to grab a beer. St. Arnolds is our favorite brewery in town especially if you are visiting with friends. Bring a board game and play on one of their long tables. My favorites are the Lawnmower and Art Car (seasonal). If their kitchen is open, get the pretzel... its worth it.
Now that you've had some beer, go visit the Beer Can House. This funky and eclectic Houston landmark boasts over 50,000 cans adorning house. I mean, its pretty unique you should check it out.
4:00pm:
Time to get ready to RODEO! Stop by Texas Junk Company for some bargain cowboy boots and don your finest attire (with a loose waist band for good ole Texas BBQ).
Then onto the main attraction! head down to NRG for Houstonians' favorite month of the year. Eat all the BBQ that you can manage, check out the livestock show, and then head into the rodeo. You'll even get a live music performance later that evening.
Close out the night with a frozen mojito at Boheme in Montrose! And thank your lucky stars that you're in Texas!
There you go! One jam packed, very Houston day! Hope to see you in Space City soon!
-S