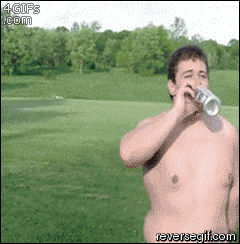 All I can think of right now is during the Cha Cha Slide during the chunk that says 'reverse, reverse' while he is doing his rewind flips. Also, I have to wonder if that is a Four Loko he is drinking... that might explain some lingering questions I have about the video's production. But mostly I shout KUDOS- you go Four Loko, flip man. You do you.
Anyways, this is not about backwards summer saults, obligatory wedding dance songs, or heart-stopping adult beverages. This is about a big, fat fail. A big, fat fail that I feel legitimately no guilt over.
Remember the December Yoga Challenge that my best friend and I were attempting (still the best gif ever)? Well a big, ole ugly flu got in the way of 100% success on that front. I really tried, folks. I did a quick practice on days where I flew out for a business meeting and then flew home that night. I made some mat time on days where reality TV was screaming my name. We managed to sneak in a practice (that went comically wrong, but it counts) on the morning of her wedding. But the flu was NOT having it.
And what the flu wants, the flu gets.
The good news with these self imposed challenges is that I can just restart whenever I want. Now that I am on my feet more and trying to get back in the swing of things for exercise, December 15th is as good as date as any to restart the challenge. I am certainly not ready for any inversions yet, but last night (by the time you read this) I cozied up with a Christmas Tree Candle and got the blood pumping with a self created practice that felt so good.
I also am going to give myself some leeway when it comes to what yoga practice I am doing. Originally I thought I would spend a month creating my own flows, but sometimes I just need more accountability than that. In the process, however, I did find some great references on building your own flow like this one. So when the month started last time, I tired the 30 day challenge with Do You Yoga's Erin. It was a great way to turn it on and go, but I think I am looking for a little more challenge that what level she was teaching to (other than the ab days... those were hard). This time I want to incorporate my own flows, in person classes, and recorded flows depending on my mood.
So with that, I say namaste.