Christmas is an a week. 7 days. Yeah. Totally not ready for that.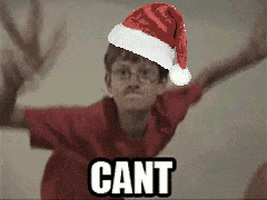 I don't know if its because I was sick for so long, had some pretty sweet celebrations happening, or just simply wasn't ready for the season, but I'm shocked Christmas is so soon! For the last 9 years, I've had to pack up my life and head back to Houston for the holiday, but this year is different. We are home now and so even though I'm late to the game, I want to really celebrate in our own space.
So my goal for the next week is to draw out all the Christmas cheer possible and really enjoy our first holiday at home. Here is my list of 5 Christmas-y things I want to fit into the next week!
1) Run Through The Lights- There are a couple gorgeous parts of town that go ALL OUT holiday decorating and I can't think of a better way to experience it than getting the blood pumping with a jolly jog. I hope that this might start out a new tradition for the two of us where we can spend some quality time together (sans the ever present eggnog).
2) Host a Christmas Eve-Eve Celebration- Now both our families are excellent hosts, but it feels fun to be able to be the ones throwing a little shindig. We have some merry plans to do a very low maintenance dinner and have something for both sides of our family to enjoy. I'm doing all that I can to NOT stress or over plan or try to make things Pinterest perfect and focus on the people.
3) Mail Those Holiday Cards- Whoops! I love getting these puppies from everyone else, so the envelopes have been addressed, stamps stuck, and they are going in the mail ASAP! I can't wait to share them with you next week...
4) Finish the Tree- The tree is mostly decorated, but there is a very conspicuous missing tree topper. Last year we couldn't agree on an angel, star, or tree topper and it wasn't until we unpacked the ornaments this year that we remembered our topless tree. So I would love to pick up something to complete the ensemble (hopefully) before Christmas!
5) Spend Some Time Focusing on the Reason for the Season- I hope that we can all find a way to really spend some time thinking about and focusing on the reason for the season. Although the rest of the stuff can be exciting and a great way to connect with friends and families, Christmas is about more than that.