Via
Oh I wish this was about the play, but it isn't. We are facing hard hitting questions today, folks. Buckle up... and by that I mean unbutton your pants for the Thanksgiving madness that has already started.
We are headed to a Thanksgiving gathering with my family (hosted by my folks who are excellent cooks and rarely burns things), but now that I'm a full fledged adult I need to step up my game and bring something more than a shining personality. For the past 3 years I've made Thanksgiving with friends and family, so instead of making the whole thing all I have to do is pack some punch with a couple menu items. I guess I will have to do the dishes too..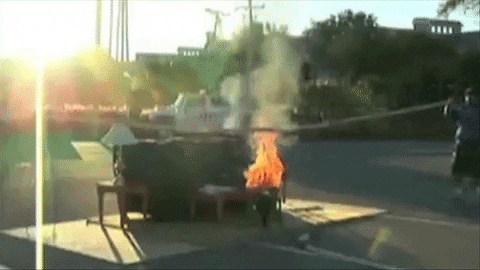 Just a turkey on fire (cue Thanksgiving sobbing)
Everyone has different Thanksgiving traditions or lack of traditions. For me, I never had a single sweet potato until I went to college. Not for Thanksgiving, not sweet potato fries, not on a Tuesday night- none of them. Honest to goodness, the first time that I made a sweet potato dish (beyond a baked sweet potato) was Thanksgiving 2012 where a couple of my best college girlfriends flew out to spend the holiday in CA. I manically made a google doc of all the different foods, shopping list, and even a 15 minute increment list of all the things that needed to get done. Which all sounded great until my turkey wasn't defrosted (#oops), my baking bag was actually a brining bag (didn't even know what that was), and I realized that I didn't buy sweet potatoes (shouldn't be that hard). I bought something sweet and potatoe-y, but definitely white instead of orange with a weird texture. Yam? Imposter tuber? We shall never know. It was not the highlight of the meal, but then again no turkeys were set on fire and the wine was a flowing.
BUT back to the task at hand, since the family is hosting a large Thanksgiving event this year and now that we are back in the same state, I definitely want to pull our weight in the food bringing (not just food eating) portion of the event. I love to cook, however, anytime we host people or bring nosh to a gathering I have the same fear: WHAT IF I BRING SOMETHING THAT IS BASICALLY INEDIBLE?
So my truth for the next week will be anxiously re-checking my grocery list, saying 'you will not ruin this holiday' affirmations in the mirror, and trying to find the stretchiest stretch pants possible while prepping for my measly contributions to T-giving. I sent over a list of what I was planning on bringing to the main chef in charge and I had a list in mind of how as a guest I could
I tried to be kind to my mom (hostess with the mostess, no doubt) and bring things that:
A) Don't need (or needs very little time) in the oven- no one who is hosting wants to deal with someone else's side dish taking up space in the MVP(lace) in the kitchen.
2) She doesn't already make. This was selfishly for me and my belly too. My mom makes the greatest mashed potatoes in the world. Legit. She is already good at this, so I will let her make them instead me bringing a knock off of that and her having to scramble some new recipe together and possibly miss a step.
3) Meal beginning and enders- Personally I am always scrounging together an appetizer (or forgoing it completely) when people come over for dinner. I'm too busy watching Andrew hyper speed clean the house while I try to get a meal in order to think about artfully decorating a cheese plate in the the shape of a turkey. Damn you, Pinterest. So in my warped mind, bringing an appetizer or dessert (while they may not be show stopping or an ohhh and ahhh moment) is a great mini way to help the hostess.
My main question for the internet at large is do you trial run new recipes before you bring them somewhere or just go with the flow and trust the difficulty level of the dish is up to par with your skills? I've done a little bit of both without too many catastrophes.