Oh race week. You are upon us. Time is going by ever so slowly as the taper crazies make me want to pull my hair out, watch tv endlessly, and eat all the baked potatoes. Oh and check the weather incessantly.
Which looks like this by the way... rainy. Honestly, this 50% chance forecast is the best that I have seen so far. I've never ran a race in the rain and I'm both terrified and really excited for it. The good parts of it will be that running in the rain is something different. I rarely ever do it and I don't have preconceived notions about what it will be like to trudge along for 13 miles in the rain. The bad news is... I rarely ever do it, soooooooo I have no idea what to expect.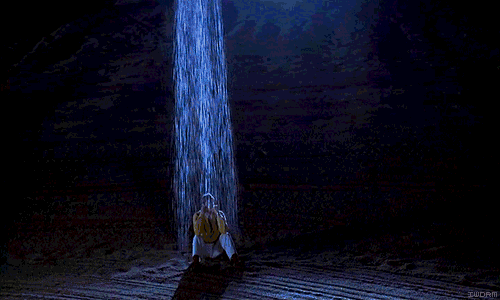 You know what is great though? Taper week. I have lotsa free time to google all the tricks, tips, and horror stories of what it is like.

Here is my plan for how to survive...
1) Dress Appropriately- I normally like to run in shorts and a tank, but tighter, longer clothes are what I need to be wearing. Also a hat. Also good socks. Not thick socks, but supportive. And everything needs to be wicking. Oh and to make a really cute fashion statement, I will rock a trash bag before the race if that means staying dry.
2)Seal my Electronics- I think "I will survive" may make an appearance a time or twenty on this rainy jaunt, so I'll need to seal up my phone in a plastic baggy. Also my snacks. Chock Blocks are great, but I'm not sure I want them slipping, sliding, and staining everything they touch.
3) Stay Hydrated- More races than not, I don't take enough of the advantage of water and fuel stations. Focus on staying hydrated to not make things any harder than necessary.
4) Don't Rush- I'm on the final miles of my racing shoes anyways, but the slick roads will not help the hundreds of miles of removed traction. Even a better reason to not focus on my time, but enjoy the process. A teensy, tiny part of me feels like maybe it all worked out that this training cycle didn't prove to be PR breaking. Putting the extra pressure of breaking my PR on top of staying on my feet (and off my rear end) would have been a lot to handle.
5) Enjoy the Craziness What if I do fall on my face the first sharp turn? Well, that sounds kinda funny. What if the extra weight I'm carrying is located in my waterlogged shoes not just the remains of the wheel barrel of chips and salsa I housed the other day? Well, I will just have to deal. It sounds like a rainy day blast and a good reason to spike a cup of cocoa at the end of it all!
Have you ever run in the rain? Tips???