Wow! Thanks everyone for your comments on our DIY Board and Batten post! It was a beast of a project (in terms of duration), but every time I see it now (or eat without having to watch myself in floor to ceiling mirrors) I smile a little. In the vein of masochism home projects, I thought I would share 5 of the house projects (big and small) that are next on our list.
Now this is a disclaimer to the public and a promise to my sanity, as much as I love getting things done, I think we would simply collapse if we kept going on the home project roller coaster at the same pace. That and I would like to stop spending all the dollars at Home Depot. I think if we spend more time there (and wear more appropriate footwear) people are going to start thinking that we work there. Meanwhile, I still am half convinced that all employees there have the secrets to the universe with their general home upkeep knowledge.
So here is what is 'next' on the home improvement docket:
Front Door Re-Do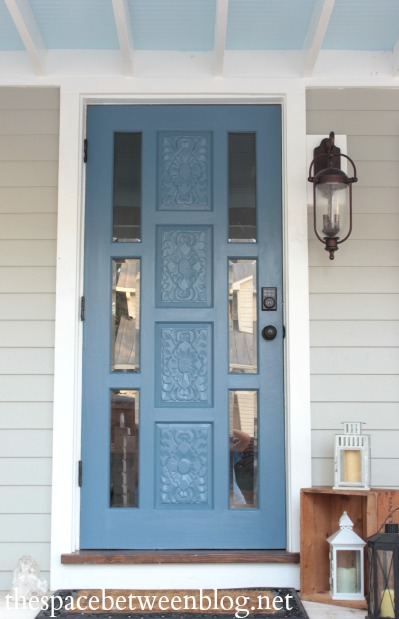 We have big plans to spruce up our front door. Not only are we going to paint it a fun color and add some tile work, but I'm really excited that we are adding a keyless entry lock. Have you looked into these things? They are so cool (and safe)! Ours will have keyless and keyed entry (ya know, because I can break anything and everything) and I think all these door improvements will really make the front pop!
Second Bedroom Face-lift
Our second bedroom is more like a room full of boxes that we shove an air mattress in anytime my sister spends the night. In case you had any doubts, we are REALLY good hosts. Now that the rest of the house is not in shambles (or most of it isn't), we want to make this a space people would want to spend the night in willingly. We just put some Classical Yellow on the wall and are adding in a bed this weekend. Now our goal is to find some affordable artwork and knick knacks to make the space cozy.
New Stairway Light Fixture
Did I tell you about the incredible deal we got on one of our downstairs light fixtures? 10 dollars! The second we saw the price tag we swiped it up. That fixture was on clearance, clearance, clearance at Home Depot and although I hadn't really thought about what I wanted in that space, I knew that I wanted it with that price tag. Don't get me wrong I have spent hours looking at light fixtures and love our living and dining room fixtures, but for a space that didn't need a statement piece I was good to go (aka literally grabbed it like I store it) with something affordable. I have pretty similar feelings with the stairwell light fixture. The current one has to go, but whatever the replacement is needs to do its job, look less like 1972, and be budget friendly.
Bathroom Cabinet Painting
I promise I will post a full kitchen cabinet painting recap soon, but not until I torture myself a little more and repaint one of the bathroom's cabinets. It isn't hard, it is just so time consuming. There is sanding and priming and painting and all of that 4 more times. I just keep telling myself that there are a whole heck of a lot fewer cabinets in a bathroom than a kitchen.
Patio Landscaping
I guess maybe NOT landscaping would be the better caption. Remember when the pup went hogwild and played gardener for a day? Well he did that about 7 times (not exaggerating) and we have exactly 2 plants still in the ground out back. I guess he is worried about our water bill... or is just intentionally trying to make me vacuum more. So to liven the space up a bit, Andrew and I are looking for some planter boxes or brick liners to keep the dog on one side and the plants firmly in the ground.
What about you? Any home projects that you are itching to cross off your list?
-S