Remember when I talked about the long run last week? Or maybe when I bit.. I mean discussed the plague I was struggling to survive? I promise there is a point beyond petty self promotion.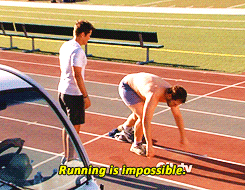 Via
In the throes of my illness induced google searching, I found out something pretty disappointing.
The January marathon I planned on running is full.
Full. Like I can't do it.
Like I've been to the registration page no doubt 5+ times and just hadn't bit the bullet on putting my credit card information in to commit in stone.
And now it is too late.
So I'm honestly pretty bummed. I should have registered for it months ago. I've already been putting the miles in and mentally prepping for it. I've already been talking about doing it to family, friends, and ya know... the internet. I really was ready to get that second marathon under my belt and now I can't do it. Not because of injury, but because I didn't register. Pretty much all my fault. So that kinda stinks.
I don't know what I should do. Maybe I'll sign up for another (much smaller) race a couple weeks later. Or maybe I'll do a larger (hillier race) in February. I'm not quite sure. I know that I want to do another full marathon and have been working really hard to start building back up that level of endurance fitness. I want to feel really excited about the race itself if I'm going to be training hours on end, so I need to find something that I actually WANT to run.
And then there is the whole upcoming October half that is causing some more frustration. My legs are 100% shot from 9 miles this weekend and I feel like I can't move/ have no will to survive. The first 5 flew by and the last 4 my feet were basically stuck in the mud. My paces were way off what I expected them to be, so overall it has been a disappointing training week.
And I stupidly did a bunch of squats the day before my long run... so that was kinda the worst thing also.
Okay that was a lot of complaining, but cheers to hoping this week training goes better and when crushing out those miles, I get some clarity about the full. Happy Monday!
-S