As a child (don't insert rude comments here), I was an odd bird. I spent a lot of time pretending to be 90 years old, crocheting like a pro, and eating predominately soft foods (ice cream...).
When I was a child I watched HGTV and the Food Network all the time. I bought the recipes (old school style) from the cooking shows and convinced my folks to get me a sewing machine for some pre-teen birthday. I remember trying to make a Yule Log once... it was too hard and I quit leaving a royal mess in the kitchen. I loved my sewing machine though... for about 6 months. I made beenie baby sleeping bags and pillows galore, but I never REALLY learned how to change a bobbin and I got frustrated and started making sock dolls instead. You see a trend here; my heart is in DIY, but sometimes my brain kinda peeters out.
I'm definitely a visual and artistic person. It is one of my favorite things to help decorate, rearrange furniture, pick artwork. Literally I love it. I even redecorate at my parents house when they are out at the grocery store just to see when they will notice. I'm probably the worst house guest ever.
So of course I am thrilled to start working on OUR house. Unlike the fantasy pinterest world though, I'm making a conscious effort to invest in some nice pieces, but also stick to the budget. So there is a lot of DIY, bargain hunting, and hack-ing of furniture. I know that some of the pieces we have recently acquired will be happy in our home for a long time, but there are also some that will be finding their way out before too long. I think it is fun to use these less permanent pieces as an opportunity to DIY and put in some trendy elements that I probably wouldn't invest in, but like to have to spice things up!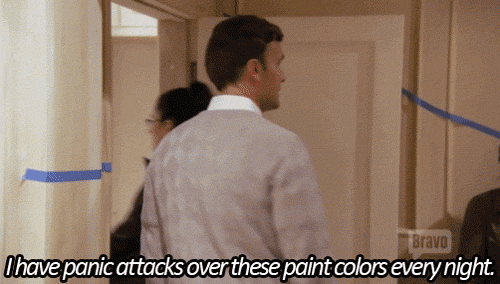 So there are no before and after shots QUITE yet, but I thought it would be fun to share what we are NOT paying for a professional to do OR dropping a lot of cash on. Maybe in XYZ months I can come back to this list and laugh as I eat cold pizza out of box while sitting/ crying on a tarp in our very own construction zone.
DIY List:
This Ottoman- Done
Hacking this Ikea Kitchen Cart- Done
My Generous Husband Building A Set of Custom Desks
Laying New Flooring In The Loft and Dining Room
Fancy-ing Up The Outdoor Spaces
Painting So Many Of The Rooms (Living Room, Dining Room, Kitchen, Master, 2nd Bed, Loft, Bathrooms...)
Removing The Popcorn Ceiling
Obviously this is a massive list...and will not all be happening ASAP. In fact looking at the list is a little scary, BUT you can't finish unless you start!
Any projects around the house that you are itching to get done?
-S